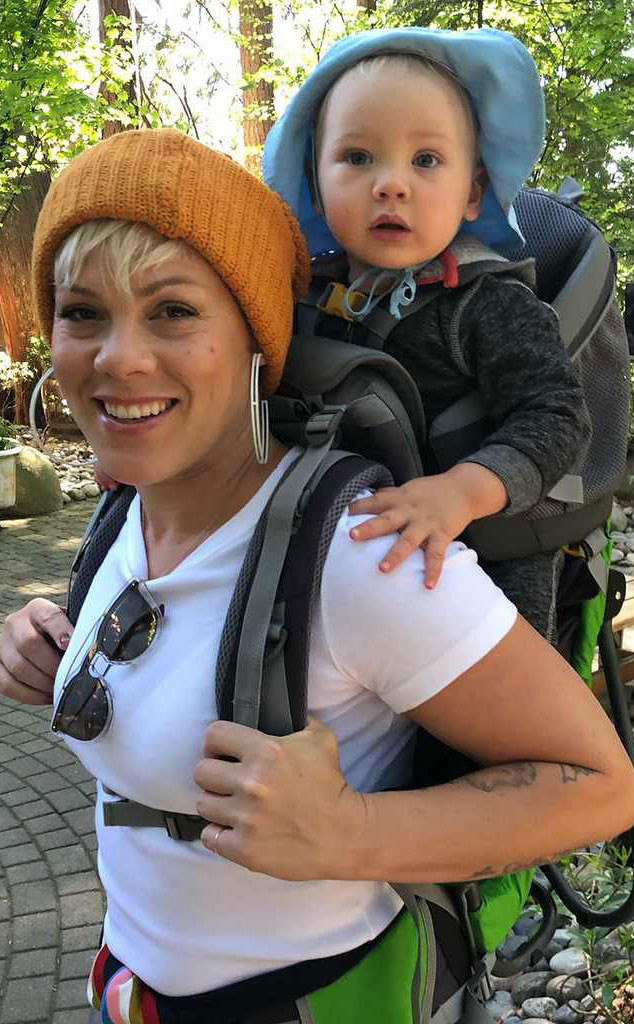 Instagram
Pink isn't a regular mom, she's a cool mom—and today is her birthday!
Throughout her career, Pink has always been a rockstar both on and off stage and she's brought that cool-girl vibe into her parenting, which makes us love her even more.
Since it is her 39th birthday, why not revel in the glory that is Pink's best parenting moments?
The Pennsylvania native has two children, daughter Willow, 7, and son Jameson, 1, and whether it's her motivational and empowering words of wisdom to her kids or all of the amazing adventures she takes them on, Pink shines as a mom.
For example, remember when she was dubbed People's " Most Beautiful Woman in the World" in April? 
In earning the title, the "What About Us" singer reminded us that she's beautiful on the inside and out and it is one of many examples of things she is passing down to her kids.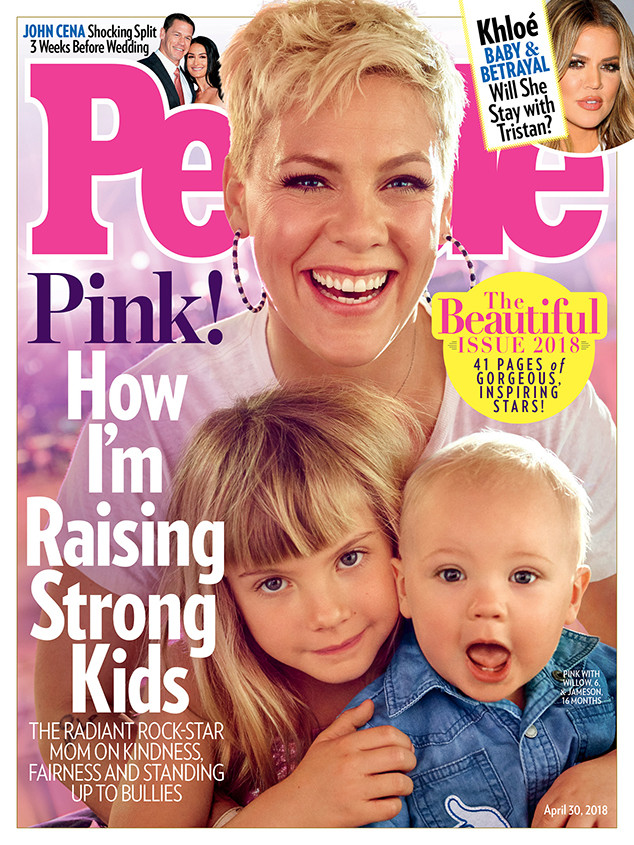 Peggy Sirota/People
Scroll through the artist's most amazing, fun and best "cool mom" moments below and then make sure to vote for Pink's best rockstar mom moment in the poll!
1. Traveling with her kiddos.
Once she had her kids, Pink made sure to make her family a priority while on tour which means her kids (and husband Carey Hart) get to experience the world with her at all times. Throughout the past year alone they've all been to Australia, Bali, Portland, New York City and many more fun and exciting locations.
2. Posing together for the cover of People's "Beautiful Issue 2018":
In April 2018, Pink landed the cover of People's "Beautiful Issue" and she talked all about how she is raising strong kids. What better way to show off your cool mom status than posing for the cover with your children?
3. She teaches her children to donate and give back.
The "Try" singer has previously been a UNICEF goodwill ambassador and her charity work has rubbed off on her children. When she was only four years old, Pink already had Willow learning how to give back through donating her toys.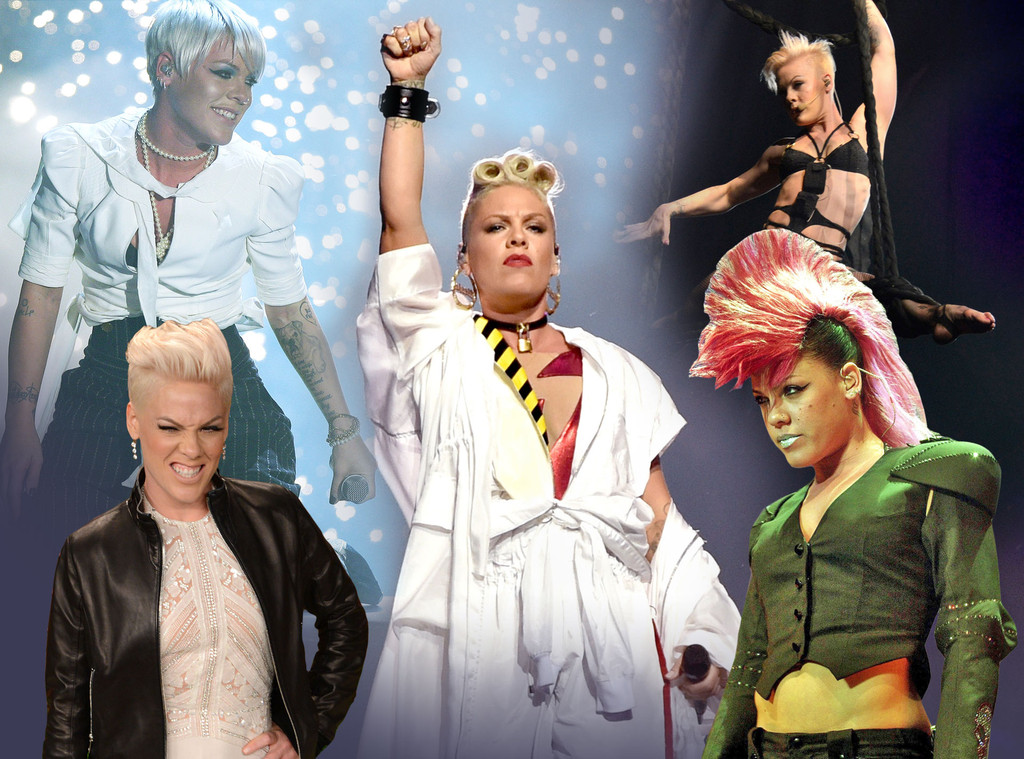 Getty Images, AP; E! Illustration
4. The time she threw her daughter Willow a big sister party.
When your younger sibling was born, did your mom throw you a special party? Yeah, we didn't think so, but Pink threw Willow a big bash once Jameson was born, and it's just so cool.
5. When Pink helped Willow at her lemonade stand…which raised money for a no-kill shelter.
When Willow decided to do her first lemonade stand, she wanted to donate all the proceeds to help save animals, so Pink helped her get it organized and they donated the money to a no-kill shelter. Clearly, Willow is her mom's mini me.
6. When she got real about the advice she has for Willow…and her motto: What would mom do?
As Cosmopolitan's January 2018 cover girl, Pink opened up all about her advice for her daughter, including be weird, because "it's very boring to be normal," and what her daughter's motto should be, AKA, "what would mom do?"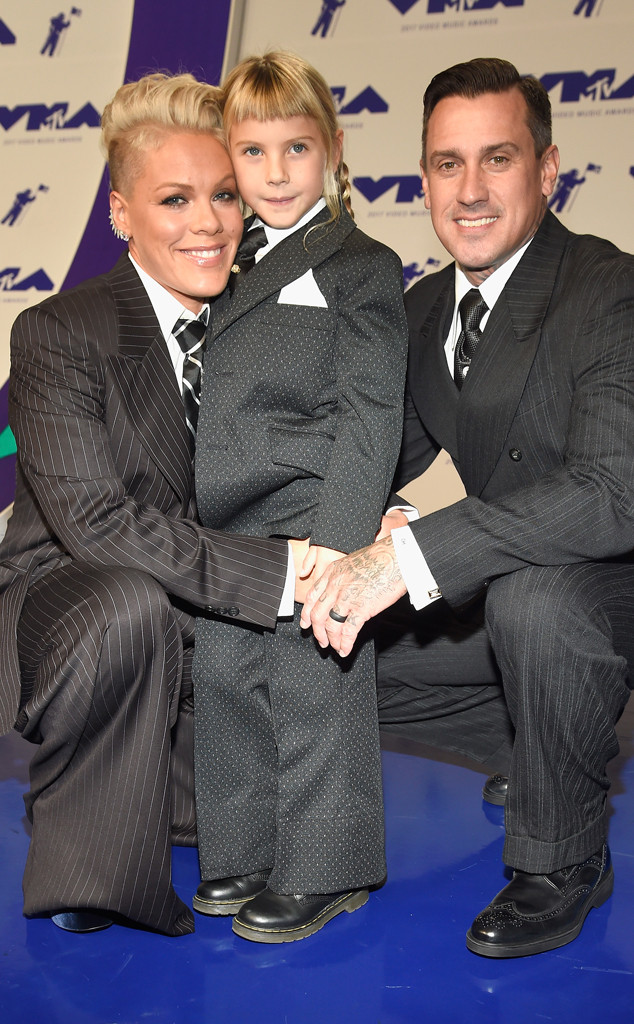 Kevin Mazur/WireImage
7. When she gave an empowering speech at the VMAs about body image directed at her daughter.
Pink's 2017 MTV Video Music Awards speech was the girl-power-fueled message that every kid should hear, making her the ultimate inspiration for not only her own kids, but kids all over the world. When accepting the Vanguard Award, the singer told a story about her daughter thinking she was "the ugliest girl I know," and used that as inspiration to tell everyone watching that, "Baby girl, we don't change. We take the gravel in the shell and make a pearl. We help other people to change, so they can see all kinds of beauty."
8. The time she lied about being Shrek, just for a laugh.
Okay, telling your child that you're Shrek because of a green face mask your wearing is just genius, even if your child cries a little at the thought of you being a monster.
9. Having backstage makeup fun with her kids.
Do we really need to explain this one? The 39-year-old singer always takes her kids on the road with her and sometimes she even lets them play with her makeup.
10. When she took the whole family to the Grammys.
Pink pulled off a total "mom joke" style moment when she posted a picture of Jameson crying in her arms at the Grammys along with the rest of her adorable crew.
11. All the times she fully committed to Halloween dress-ups.
With her pink hair and epic stage ensembles, we're not all that surprised that Pink goes all out with her family on Halloween.
12. Taking time on tour to make Jameson the center of attention.
If being pushed around backstage through a group of backup dancers in shiny costumes isn't an awesome way to live as a baby then we really don't know what your definition of awesome is.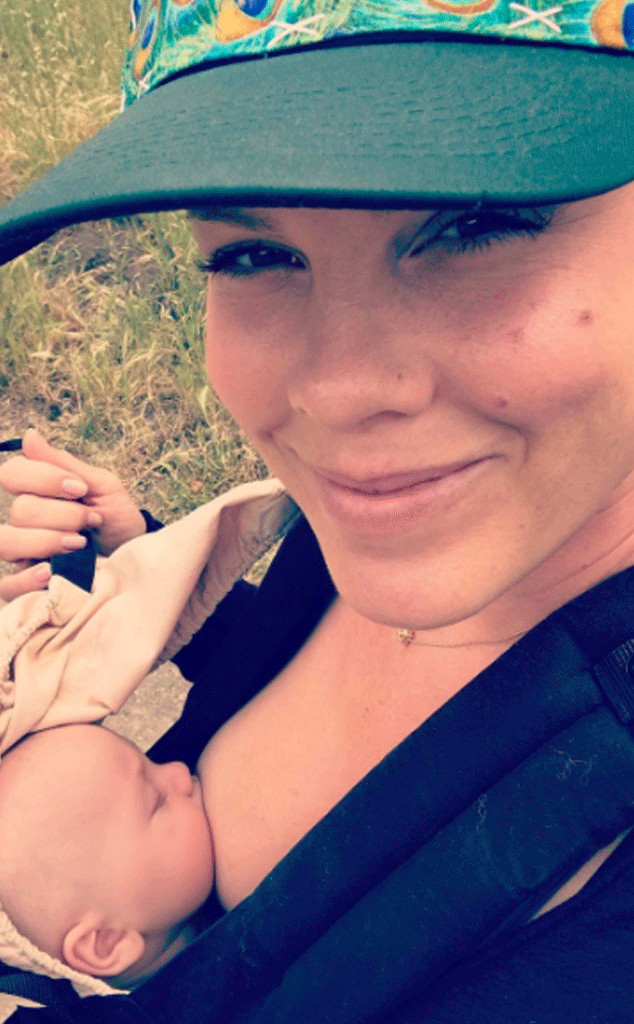 Instagram
13. Every time she's tried to normalize breastfeeding. 
Pink is a big advocate of being yourself and staying true to what you believe in and that's been proven time and time again with her honest posts about being a mother and breastfeeding. It's very inspirational.
14. Having her children on set for all of her projects, like music videos.
Not only has Pink had her kids on tour with her, but when she filmed her "Just Like Fire" video from Alice Through the Looking Glass, she brought Willow along and gave her a matching costume #lifegoals.
15. Being an extreme sport enthusiast.
Most moms tell you to go outside and play, but not many moms go with you. If they do play outside with their children, we doubt it's BMX riding or other extreme sports like the "Just Give Me a Reason" singer does on the reg.
16. Hanging with her famous friends.
Our parents have a few pals that are fun to be around, but they aren't star status like Pink's friends. Seriously, the singer's friends are very, very famous! Pink often brings her friends like Katy Perry to spend time with her children and we are totally jealous about it.
17. The time she cried with another mom in the grocery store, because parenting is hard.
Pink really is just a mom trying to figure things out so when she posted a story about another mom getting strength from her parenting because, "I'm not afraid to f–k up in public," and then admits she cried with the lady at the grocery store you can't help but love her even more.
18. When she realized that losing is okay and vented about it on Instagram.
In January 2018, Pink lost at the Grammys, but she performed her heart out, her daughter met her favorite singers and her husband made her a flask full of liquor, and she was totally zen about it all. "I lost my 19th Grammy nomination, I consoled another talented loser, whom I love, and I kept my feet on the ground (cause spectators like to dare me to.) y'all I'm so proud of myself I'm gonna buy myself a drink tonight. Perseverance. Perspective, gratitude," she shared on Instagram.
Happy birthday Pink, now go celebrate with your sweet family!
Watch E!'s People's Choice Awards Sunday, Nov. 11, 2018 at 9 p.m., only on E!
(Visited 58 times, 1 visits today)