The family of two children, who were found dead along with their mother and another child at a house in Derbyshire, have paid tribute to them.
Jason Bennett said he was heartbroken at the loss of daughter Lacey, 11, and son John Paul, 13, as he laid flowers at Chandos Crescent, Killamarsh.
A 31-year-old man from Killamarsh, who was known to the family, has been arrested on suspicion of murder.
The third child has been named as Connie Gent, 11, from Sheffield.
It is believed she was Lacey's friend and had been in the house for a sleepover.
Derbyshire Police said they were called to the house at 07:26 BST on Sunday after concerns were raised about the safety of a man.
They found the bodies of the three children, along with that of 35-year-old Terri Harris, who was Lacey and John Paul's mother.
At the scene today, Mr Bennett told Sky News: "I'm broken, I just want to kiss my babies.
"I just want to kiss them and hold them. TikTok Queen and my beautiful boy, they were beautiful."
In a message posted on Facebook earlier, he said "life will never be the same".
The children's grandparents, Debbie and Trevor Bennett, also arrived at the scene to leave flowers.
Mrs Bennett said: "They were beautiful, well mannered kids. Terri was a beautiful and wonderful mother.
"Their dad was on holiday in Devon. He had to drive home knowing he has lost his children.
"I don't know how he's going to come through this."
Mr Bennett added: "He's going to need a lot of help and our strength for him.
"I've only spoken to him on the phone and it breaks my heart to hear him like that."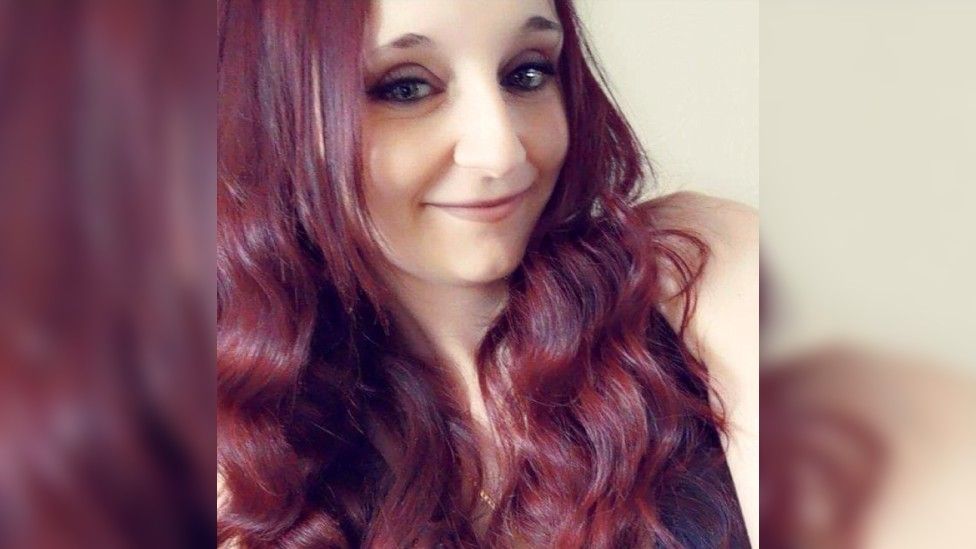 Mrs Bennett said Lacey was a West Ham fan and John Paul liked TikTok and computers.
The Outwood Academy City school in Sheffield confirmed it was closed following the "tragic incident" involving three of its students.
In a statement on Twitter, the school said: "It is with great sadness that the academy will be closed today.
"A tragic incident has taken place in the community involving 3 of our students. We will however be open to any students who need our support.
"Our thoughts are with all those affected by this sad news."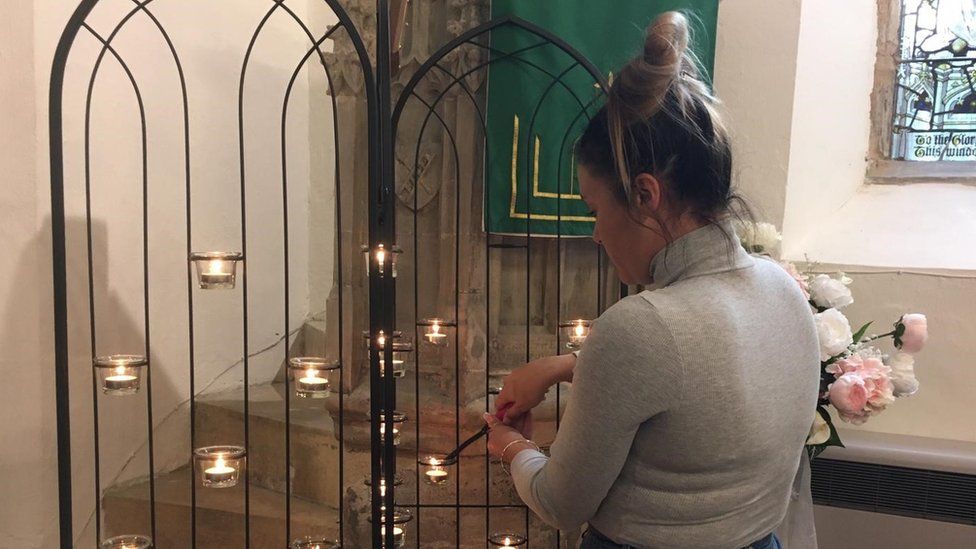 At the scene: Caroline Lowbridge, BBC News
Killamarsh is a community in mourning and disbelief, according to the Rev Canon Helen Guest, rector at St Giles Church.
"We can't believe this tragedy has happened in our community and it's literally a stone's throw from where I live," she said.
The church opened this morning so that people could write in a book of condolences and light candles to remember the woman and three children who have been killed.
"So far we've had a gentle flow of people who are coming in," said the rector.
Many of those arriving to pay their respects had young children themselves. One of the mothers had tears in her eyes after lighting a candle.
"My thoughts just go out to the whole family," she said.
"It's such a close knit community I think it has affected everybody. I have three children and it was a very anxious time yesterday, not knowing what was happening."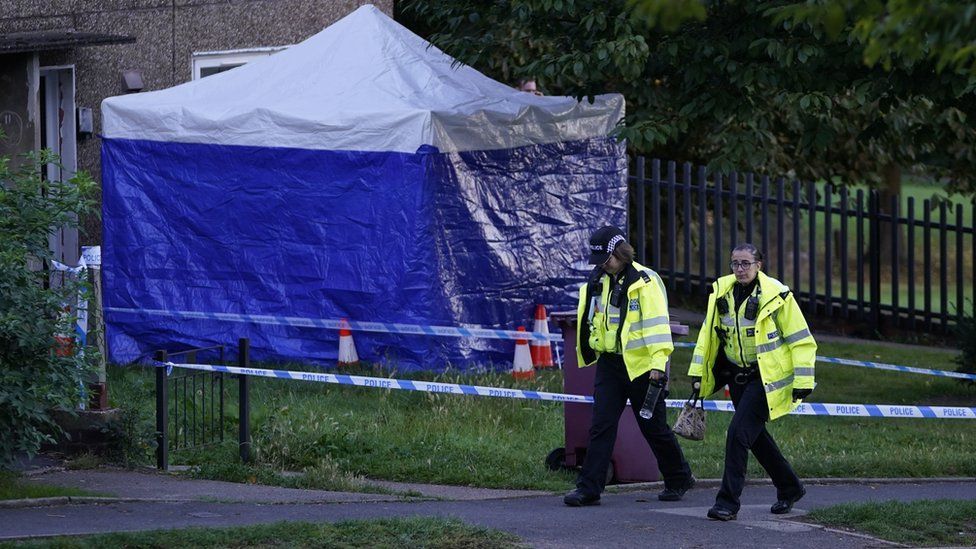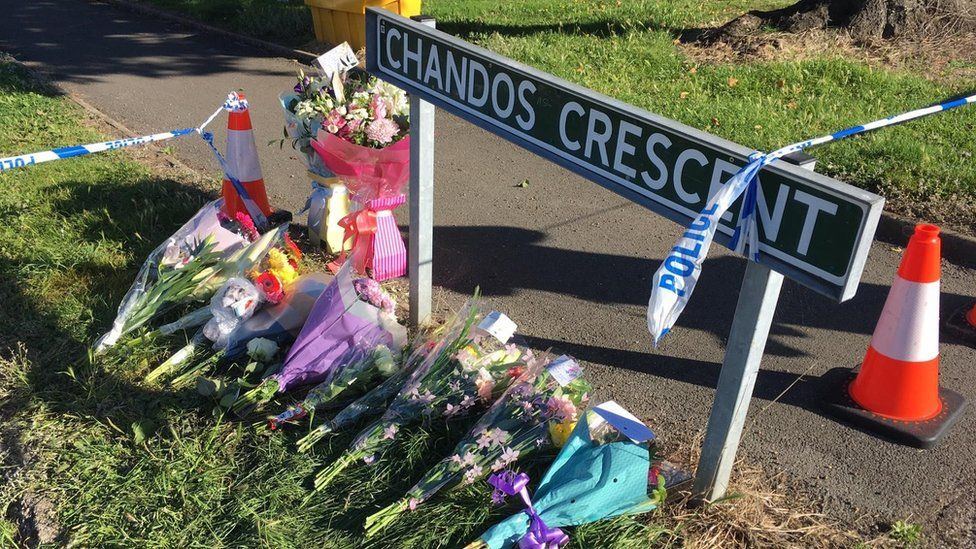 Derbyshire Police's chief constable Rachel Swann said the deaths were an "understandably shocking event that has deeply affected the local community in Killamarsh, as well as colleagues, family and friends in Sheffield."
She thanked the officers who arrived to the scene "in such a difficult situation" and added: "While understandably worrying and upsetting, this is believed to be an isolated incident in which those involved were known to one another and nobody else is being sought in connection with the deaths."
She said officers were particularly keen to speak to anyone who was in Chandos Crescent between 21:30 BST on Saturday and 07:30 BST on Sunday, and had any information that could help with their investigation.
Hundreds of people from the Killamarsh community gathered at Baker Park near Chandos Crescent on Monday night for a vigil.
Jenny Eells from BBC Radio Sheffield said people arrived to lay candles, flowers and teddies around a post in the centre of the children's playground.
"The commemoration lasted around 20 or so minutes with people of all ages, many standing in silence… some with their arms round each other and visibly upset," she said.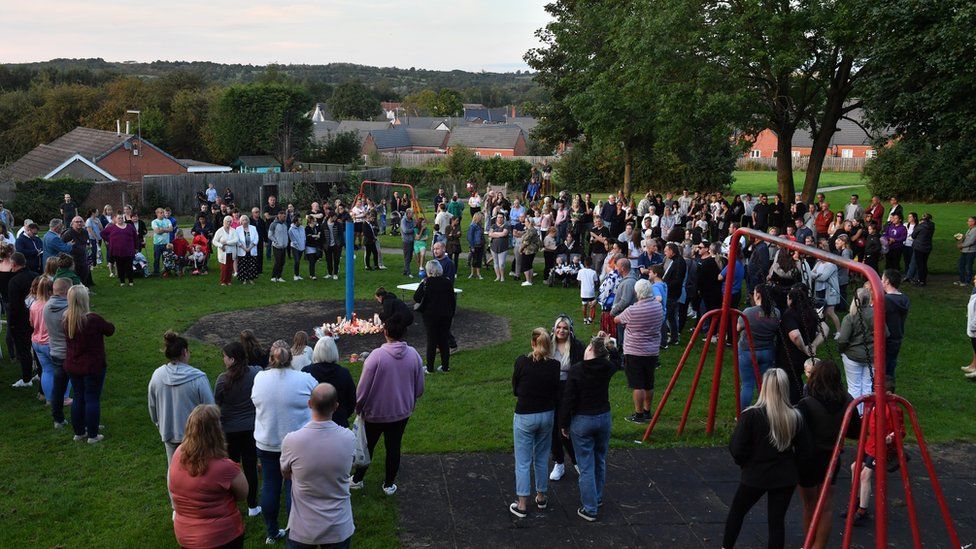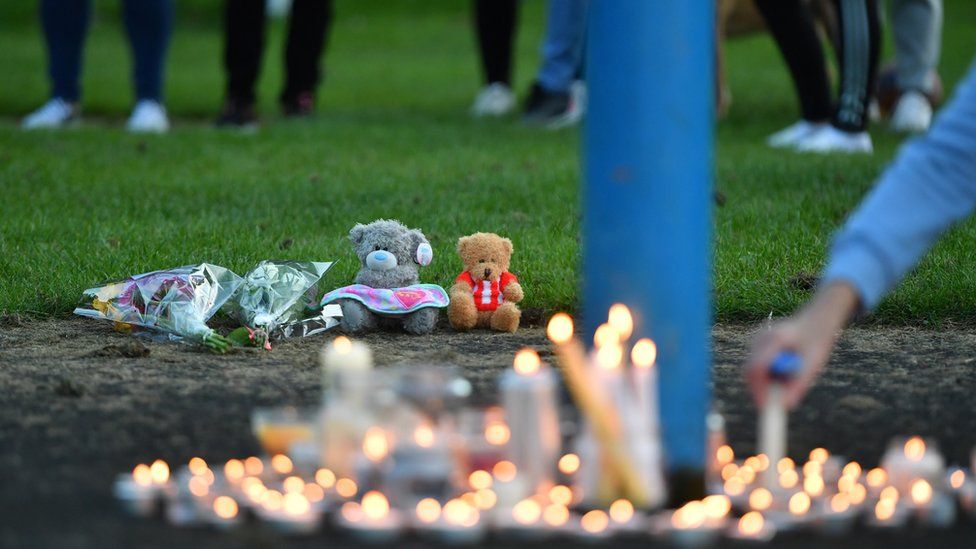 Organiser David Taylor, who is a local pastor from Church on the Street, said it was "a dark day in the place I call home".
"Each one of you is here to remember four people who are no longer with us," he said.
"And it is a day that we'll all remember because this doesn't happen in Killamarsh. But it has.
"Some of you know the family, some of you know the children, some of you will have never seen them before. But you're all here to show your respect."
Following the vigil he told the BBC: "Many of them wanted to be able to come and show their feelings for one another, for the community and to be there to support one another.
"I met the father this morning and as you can imagine he's in a really bad way and all I could do is comfort him and pray with him, and he appreciated that."
(Visited 37 times, 1 visits today)